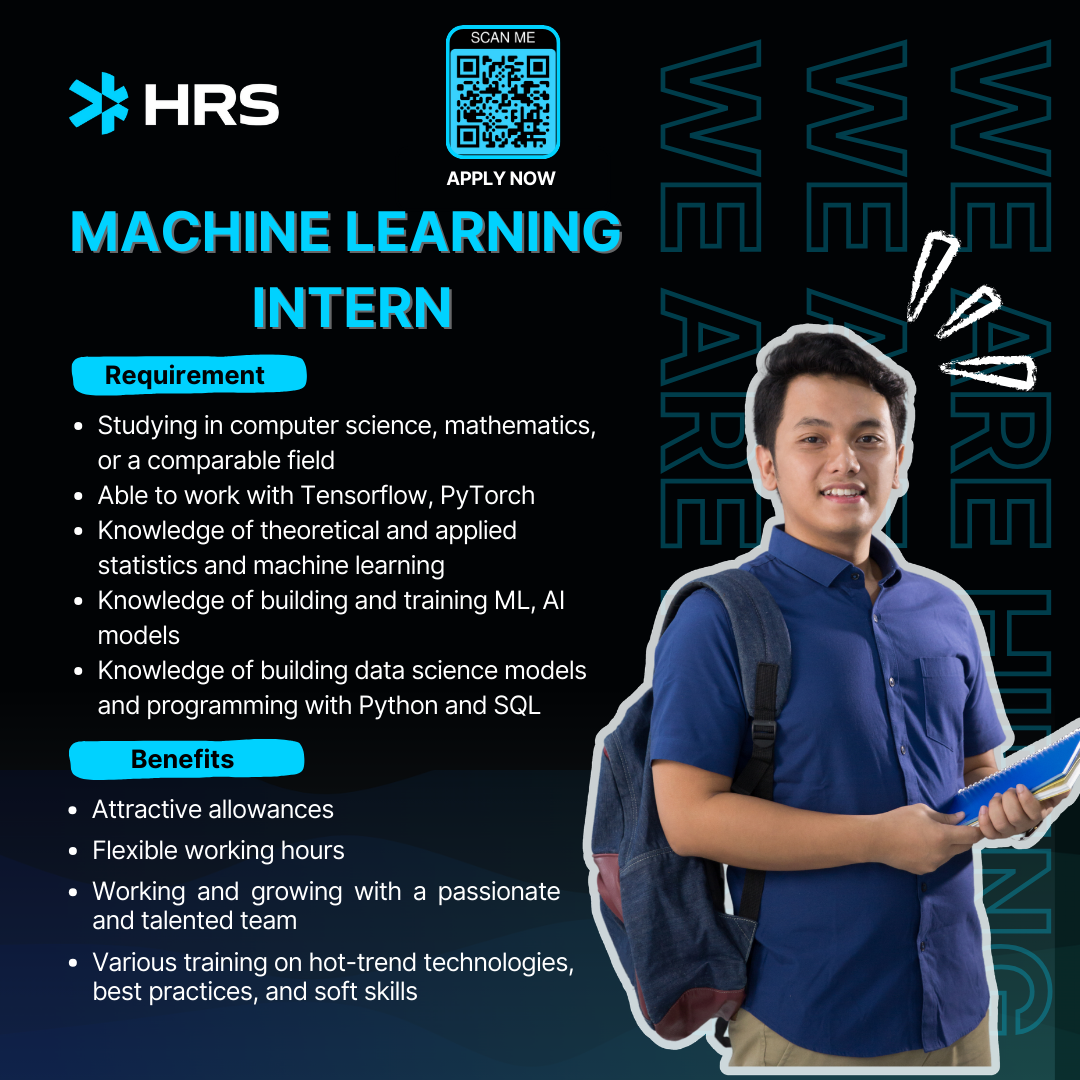 If you are interested, please apply via this link: https://www.linkedin.com/jobs/view/3751660774/
About HRS:
HRS, a pioneer in business travel, aims to elevate every stay through innovative technology. With over 50 years of experience, their digital platform, driven by ProcureTech, TravelTech, and FinTech, transforms how companies and travelers Stay, Work, and Pay.
HRS's exponential growth since 1972 serves over 35% of the global Fortune 500 and leading hotel chains.
Join HRS to shape the future of business travel, empowered by a culture of growth and setting new industry standards worldwide.
Job Description
Assist in building ML models for our products.
Assist in extending and improving existing ML models.
Work alongside data engineers to create data and model pipelines and embed AI and analytics into the business decision processes.
Integrate ML models to end-users and run experiments.
Run tests, perform statistical analysis, interpret test results, and perform tuning and scaling.
Required skills:
Study in computer science, mathematics or comparable.
Knowledge of theoretical and applied statistics and machine learning.
Knowledge of building and training ML, AI models.
Able to work with Tensorflow, PyTorch.
Knowledge in building data science models and programming with Python and SQL.
Good to have:
Knowledge with MLOps to build production ready pipelines.
Knowledge with Docker container
Knowledge of Azure AI.
Understanding of distributed systems, CI/CD, and container technologies.
Working Location: District 12, HCMC
Number of positions: 02
Benefits/ Opportunity:
Working and growing with a passionate and talented team.
Attractive allowances.
Flexible working hours.
Various training on hot-trend technologies, best practices, and soft skills.
Year-end party, team building, etc.
Free in-house entertainment facilities, coffee, and snacks (instant noodles, cookies, milk, soft drinks...)

To know more about us, please kindly visit here:
Website: https://www.hrs.com/enterprise/ or contact This email address is being protected from spambots. You need JavaScript enabled to view it. if you have any questions